My Background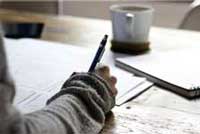 In 1987, I was 20 years old when I decided to take the semester off from The University of Toledo. As a sophomore in the program of Mechanical Engineering, my classes consisted of Chemistry, Mechanical Drawing, Calculus, and Fortran. I will remember that Spring as a turning point in my life and ultimately I would choose another path. One of the influences in my life was a book by Scott Peck, M.D. called The Road Less Traveled. On a road trip down to Florida to meet my newborn niece, Jessica, I read this classic tale that famously begins with the line: "Life is difficult". That Fall, I returned to school and declared a major in Sociology.
In the Spring of 1990 I graduated from The University of Toledo and was offered an opportunity to continue graduate work. Instead I chose to move to Michigan. With degree in hand, I felt excitement and hope for the future. For the next two years I would get my feet wet at a hospital in New Baltimore Michigan called The Psychiatric Center of Michigan Hospital. I began in administration and developed an Outreach Center in Rochester. In addition I became a Crisis Response Clinician. I was on call and responded to Emergency Rooms in the Detroit area to do on site Psychiatric evaluations. Knowing that I wanted to return to school I pursued a position on the Adolescent Unit at the hospital and began applying to Graduate Programs.
In 1992 I began my graduate studies at The Center for Humanistic Studies and graduated in the Summer of 1993 with a Masters in Clinical and Humanistic Psychology. There I wrote a thesis titled - What Is the Experience of Honoring the Self. After completion of my Masters degree I spent 10 years working for the University of Michigan Hospital where I was a Psychometrician for children and adults in the Department of Neuropsychology. My most recent certification is in a body focused trauma resolution theory, TRE©. As a Certified TRE© Specialist my work emphasizes a need to understand the nervous system and the individual trauma crisis responses: Fight, Flight, Freeze, and Fawn. www.traumaprevention.com. I became certified as an Addictions Counselor and offered Intensive Outpatient treatment along with Individual and Group Therapy. Following graduation, I also chose to continue developing my skills in the area of Humanistic and Body Psychotherapy. I would train for a total of 6 years graduating with a Certification and becoming a member of the Integral Psychotherapy Association. There I would learn a theory that has changed my life and many of the lives of my clients. Developed by Joe DeLoach, PhD and Deborah Jean, PhD, the Script Hierarchy is a comprehensive theory of personality development. At the core of the theory is the understanding of free will, the ability to choose, and how poor decisions are made in childhood for survival which result in a "script", that puts at the center of understanding the idea of choice and our basic drive of survival. The "script" becomes an unconscious set of behaviors, feelings, and actions that are often accepted by an individual as reality that is unalterable.
In 1998, Barbara Lilleyman, M.A. and I began The Empower Group, LLC. Therapists of like mind working together in a healing environment. Since I began the business, I have also spent time increasing my skills in other ways than private psychotherapy practice. I taught at Oakland Community College in Auburn Hills, worked in case management for an insurance company, and currently work for the University of Michigan Hospital where I see both children and adults in the Department of Neuropsychology.
-- Amy Guyton, MA